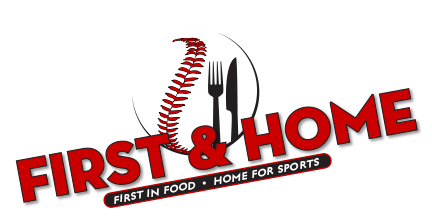 Peoria, IL, August 31, 2015 – First & Home is set to open this fall in Northwest Peoria on Route 91 near The Shoppes at Grand Prairie. The new restaurant concept is the joint effort of Peoria-based entrepreneur, Pete Mangieri, along with Jim Henning and Robert Walker of United Restaurant & Hospitality Consultants. The 220 seat restaurant boasts indoor and outdoor dining and bar areas, 32 state of the art TV's, including multiple 90" HD flat screens, and will be open 7 days a week for both lunch and dinner service.
"We are thrilled to be part of developing & operating First & Home in the Peoria community," says Jim Henning, United's Founder & COO. "Together with Pete Mangieri and his family, we've created a welcoming concept that appeals to a diverse crowd, including families, sports fans and social enthusiasts. The restaurant combines elevated food with sports-oriented fun and affordable prices, in a familiar & comfortable atmosphere."
When: Soft Opening – Mid-October 2015
Grand Opening –November 2015
Where: First & Home
7716 Route 91, Peoria, IL 61615
www.firstandhomerestaurant.com
www.facebook.com/firstandhome
On The Move News:
First & Home is a unique and innovative restaurant created with a passion and commitment for excellence. The concept is rooted in quality food, personable service and fair prices in a sports oriented environment. Locally sourced ingredients elevate the menu with offerings from a signature proprietary 3-meat blend burger and 30-inch pizzas to wood-smoked barbeque and a variety of seasonal lighter fare including fresh salads. An array of shareable small-plates encourage groups to socialize in a convivial atmosphere, which is warm and inviting for family gatherings, a night on the town or toasting drinks with friends. The beverage program offers an unrivaled selection of local and craft beers on draft as well as specialty cocktails and family friendly hand-spun milkshakes. The elevated dining experience is set to give guests a unique sports experience, offering all local and premier sporting events. The First & Home concept is the first of many expected to open throughout the central Illinois area over the next 16 months.
About United Restaurant & Hospitality
United Restaurant + Hospitality Consultants, led by Jim Henning and Robert Walker, was formed to deliver opportunistic restaurant and Hotel F & B consultation & operational services and to provide hotel & restaurant management, asset management, and construction management services for owners and co-investors. With over 60 years of superior expertise, United has implemented proven success models to effectively reposition numerous restaurants, F & B operations and catering businesses throughout the nation; including fine dining establishments, active lounges, casual dining, concessions and both full service and quick service operations. For more information, please visit www.unitedrestauranthc.com
Public Relations Contact:
Acrobatique Creative
Kerry Parker – PR & Digital Publicity Director
kerry@acrobatiqucreative.com
Phone: 917-301-0952
Local Contact:
First & Home
Jim Henning – Founder & COO
United Restaurant + Hospitality Consultants
Email: jim@unitedrestauranthc.com
Phone: 937-726-3718